Posted 11/26/2012 at 11:58am | by Chris Gill
Has any piece of musical equipment proliferated more, or more rapidly, than the humble electric guitar effect unit?
Though there is no official tally, suffice it to say that thousands of stomp boxes, effect devices and processors have been created for the electric guitar over the past 60 years (and that's not including rackmount effects). Conceivably, more than half of those devices are distortion, fuzz and overdrive effects.
So how did we come up with a list of the top 50 electric guitar effects of all time? Actually, it was easy, as most of these stomp boxes and devices turn up in the pages of this magazine on a regular basis every time we ask artists what they use in the studio and onstage.
Other effects got the nod for being the first of their kind (like the DeArmond Tremolo Control, which dates back to the Forties and was the first optional effect device) while a few passed muster for being undeniably cool or influential — even if they're so rare that it will cost you a few thousand bucks to score one on eBay.
Popularity also was a critical factor in our choices, although we generally passed over a few best-selling reissues or boutique clones in favor of the real deal. So even though the Bubba Bob Buttcrack Tube Overdrive may sound more soulful than an original Tube Screamer, if it's little more than a copy with slightly upgraded components, it didn't make the cut.
If you love effects like we do, we hope you'll find this top-50 list a useful guide to discovering the classic effect boxes that have shaped the guitar sounds of rock, metal, blues, punk and many other styles. And if you're like us, it will undoubtedly compel you to plunk down a chunk of cash for a collectible pedal or two on eBay. Don't say you weren't warned.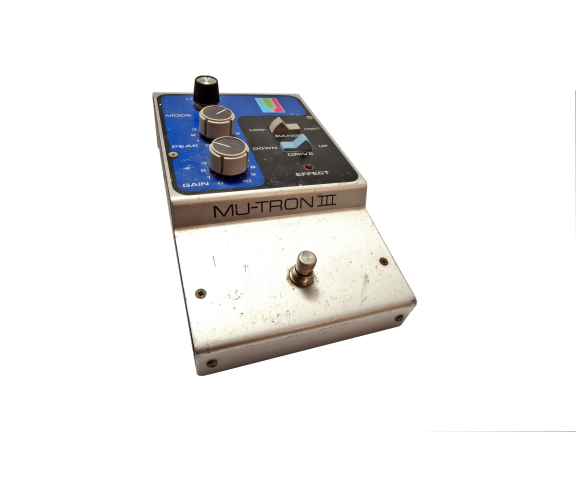 14. MU-TRON III
When it comes to envelope follower effects, the Mu-Tron III is the big, pimpin' mack daddy of them all, producing auto-wah effects that are funkier than a Cadillac Eldorado with leopardskin seats and gold-plated spinning rims. From duck-like quacks to synth-like swells, the Mu-Tron III produces unlimited funk for your buck. HEAR IT: The Grateful Dead, "Estimated Prophet"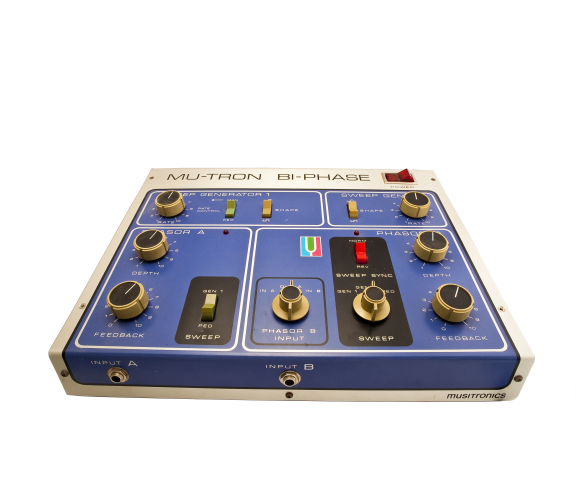 21. MU-TRON BI-PHASE
Featuring two independent phase shifters in a huge, oversized box, the Bi-Phase creates unique stereo and two-speed phasing effects with a thick, swirling sound that many have futilely attempted to duplicate. In addition to standard phasing sounds, the Bi-Phase generates impressive, realistic rotating speaker effects when used in a stereo setup. HEAR IT: Smashing Pumpkins, "Starla"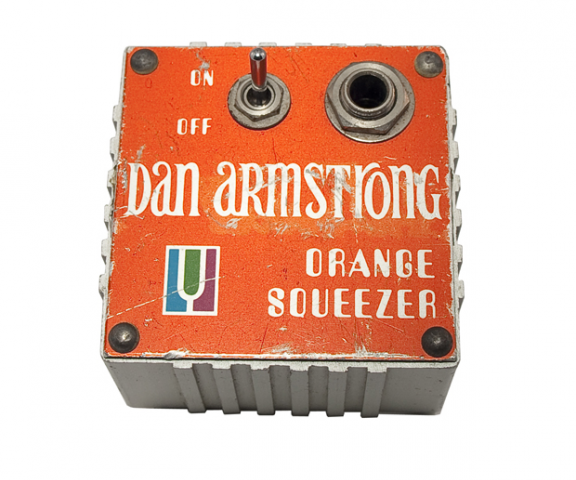 25. DAN ARMSTRONG ORANGE SQUEEZER
This micro-sized box, which plugs either directly to a guitar or amp, has only an on/off switch, but when it comes to sweet, smooth, singing compression sounds, it's dialed in just right. Many studio guitarists consider it the best compressor effect for guitar. HEAR IT: Dire Straits "Sultans of Swing"