by Chris Gill
Reprinted from Vintage Guitar Magazine
September 1997, Volume 11 Number 12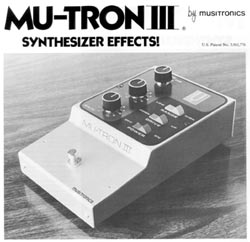 Effects pedals would probably still be considered novelties instead of serious tools for professional musicians had it not been for the ambitious efforts of the Musitronics company in the '70s. Their impressive line of Mu-Tron stomp boxes boasted extremely sturdy construction, attractive and functional design, and, most importantly, outstanding sound quality. Mu-Tron effects were used by many top musicians during the '70s, including Stevie Wonder, Larry Coryell, George Duke, George Benson, Lee Ritenour, Frank Zappa, Bootsy Collins, Jerry Garcia, Andy Summers, and many others. The companys' products have recently regained hip status amongst today's new breed of musicians, being used by bands like Bush and Korn and appearing on the covers of records by the Pizzicato Five and Pink Noise Test.
The seeds for the Musitronics company were planted in 1970 when Guild president A1 Dronge bought the rights to a music synthesizer designed by electronic engineer Mike Beigel and a few of his MIT schoolmates. "It was like a Moog, but a little different," recalls Beigel. "Among other things, it had an unusual hand-held controller, voltage controlled filters, digital controlled oscillators, which was uncommon at that time, and a ring modulator. Without knowing it, I laid the groundwork for a lot of work I would be doing in the future."
While working on this project, Beigel became acquainted with Aaron Newman, chief engineer at Guild and the designer of many of the company's amplifiers. Unfortunately, Dronge was killed in an airplane accident in 1972, and the synthesizer project was dropped before the first unit was ever produced. Newman and Beigel decided to start their own company when they detected resistance to the synthesizer project from the new president of Guild.
"I went to work somewhere else, but Beigel and I kept talking about what kind of synthesizer-related accessories we could make," says Newman. "He thought that we could make an automatic wah-wah pedal. We made the first prototype of what became the Mu-Tron III envelope follower in the summer of 1972, and I left my job to start Musitronics."
The housing for the Mu-Tron III was created with help from an automotive designer who once was in charge of the design team that designed the Fifties Studebaker. "We designed them so you could drop them off tall buildings and they'd still work," says Beigel. "The way the company started out was the seeds of how it ended too. We made the products as good as we possibly could and didn't worry enough about staying in business. What we tried to put together, and I think we succeeded, was something that was both a novel product and a work of art."
Newman and Beigel developed a prototype of the Mu-Tron III, which Newman showed to major retailers like Manny's, Sam Ash, and E.U. Wurlitzer to check their reaction to the product. The response was overwhelmingly positive, so Beigel and Newman joined forces with Derf Nolbe, an East Coast music store owner who put up most of the funds for starting the company, and Danny Lamb, who handled marketing and sales. Musitronics set up its first plant in a converted chicken coop in Rosemont, New Jersey, and in a short amount of time it became that town's biggest employer, with a work force of 35 employees.
Soon Musitronics was granted a patent for both the circuitry and the physical design of the Mu-Tron III. An envelope follower connected to a voltage controlled filter, the Mu-Tron III uses photo mods to control the filter. "We also used a dual supply instead of a single supply so we could have a wide dynamic range," says Beigel. "That way you could really smash on the guitar and not distort the whole effect. We used a state-variable filter because that way we could get three different kinds of filter response out of it."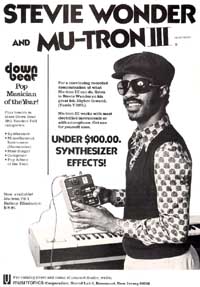 The Mu-Tron III received a significant boost from Stevie Wonder, who used it on his hit "Higher Ground" and agreed to appear on a poster promoting the product. "After that, we began to have some nationwide market penetration," says Beigel. "Soon all kinds of rock and roll and jazz players were using the unit." The III was the company's most popular product, and it remained in constant production throughout the company's existence.
According to Beigel, Musitronics' next product never came into production: "It would have been the first commercially introduced bucket-brigade flanger. We called it the Phase Synthesizer. It was an interesting product because in addition to having an analog delay in it, everything was controllable by everything else. It was controllable by foot pedal, envelope, oscillator, and by various combinations of those. It was very ambitious and ahead of its time, but it never saw the light of day because it was too complex. We made a few prototypes, one of which Larry Coryell used on a song on his album The Eleventh House."
Shortly thereafter, work began on the next Mu-Tron effect-the Phasor. "We decided that a phase shifter was a commercially viable effect," says Beigel. "There were two interesting things about the Mu-Tron Phasor. First, it was better than anything else on the market in terms of audio performance, but we still weren't real pleased with the noise level because it was perceptible, which was not okay with us. Second, the fact that the Maestro unit, which was popular at that time, distorted the sound a little bit was one of the interesting aspects of the phase shift sound. We wanted to find a way to do the same thing without distorting the sound. We developed the idea of putting feedback around the phase shift loop. The thing with phase shifting is that it creates notches in the spectrum. The feedback created some peaks in addition to the notches in the effect. We made a six-stage phase shifter, whereas other products, such as the MXR Phase 90, were four-stage phase shifters."
Musitronics followed up the Phasor with the Bi-Phase, an impressive dual phase shifter that could be operated in parallel or in series and in stereo or mono. The optional C-100 photoelectric foot controller also allowed players to manually control either sweep or the rate of the effect. Measuring approximately 10×14 inches, the Bi-Phase was one of the largest "pedals" ever built.
Despite its lofty $279.95 retail price, the Bi-Phase was immensely popular. Beigel says that he gave the first prototype of the Bi-Phase to Mick Jagger when the Rolling Stones were rehearsing for their 1974 at a nearby air force base. Many jazz and studio guitarists purchased the product, as well as keyboardists who used it to replace their Leslies. The Bi-Phase was also one of the late Frank Zappa's favorite effects.
Although Musitronics had a slew of popular products, the company was not making much profit because the products were costly to build. To compensate, the company began to manufacture and distribute a variety of effects designed in England by Dan Armstrong and his engineer George Merriman. "Dan had been making these effects for a number of years in England," says Beigel. "We made a royalty arrangement with him to make those products in the U.S. There were five effects-the Red Ranger, Yellow Humper, Blue Clipper, Green Ringer and Purple Peaker. At Musitronics, George Merriman, Dan Armstrong, and I all worked on the Orange Squeezer. It was predominantly George who did the engineering, and I made up the name. The Orange Squeezer was the most popular of the Armstrong boxes."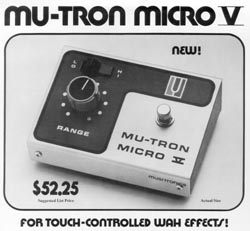 These tiny boxes, which are less than 2-1/2 inches square and 1-1/2 inches deep, retailed for only $29.95. However, their popularity was marred by the fact that they plugged directly into the guitar's output jack and didn't fit into the jacks for Stratocasters and Telecasters. Two of the wires could be switched so the units could be plugged into the amplifier input, but then the on/off controls were out of the player's reach.
Merriman and Beigel joined forces to work on the next Mu-Tron product-the
Octave Divider. "It used a couple of new principles that Merriman actually got patented," says Beigel. "The circuit stabilized the response of the guitar. Deriving the signal from the guitar to control the octave division is extremely difficult. Tracking the fundamental frequency of a guitar accurately and quickly is still a major topic in musical product design, whether it's guitar synthesizers or an octave divider. The Octave Divider used the guitar signal as the source material for the octave, so the octave sounded like the guitar. In addition, we stuck the Green Ringer circuit in it so it would produce a fairly reliable octave above as well as an octave below."
Musitronics introduced several other products over the course of time, including the Phasor II (an upgraded version of the Phasor), and the Micro V envelope follower (a budget version of the Mu-Tron III). Because the Micro V used a single 9-volt battery instead of the two 9-volt batteries or 18-volt power supply used with the Mu-Tron III, it didn't have as much dynamic range. "It was very different than the Mu-Tron III," says Beigel. "We used a transconductance frequency control instead of the photo mod, and we could only give it one filter type output, so we used a different type of a filter design. We wanted to make something that was more accessible to the low-priced market. Even then we didn't succeed in making something cheap enough to sell for the price. That was designed by myself and a friend named Bob Kosug."
Musitronics also made a volume-wah pedal and a flanger with a rocker pedal, which was the last product the company developed before it was sold to ARP. "We finally got back into making a flanger," recalls Beigel. "Unfortunately we didn't make very many of them. We only produced about 1,000 of them. We used a different sort of control circuit, and we used pedal control as well as optical control. We used an interesting set of audio circuitry to expand the dynamic range of the bucket brigade, and that actually gave it a distinctive sound. It was a combination of a compander and a noise gate."
The Flanger, Volume Wah, and C-100's rocker pedals boasted extremely durable foot pads that were made in Italy by the Pirelli tire company. "I think the material was meant to be installed in escalators," says Beigel. "We searched and searched to find a good mat to put on those things, and we finally found Pirelli."
Work also began on a guitar synthesizer, but the product never came to fruition. "During the late '70s, the Holy Grail was the guitar synthesizer," says Beigel. "We were working on one that was not strictly a synthesizer because it did not use the guitar to control an oscillator to generate the sounds. We tried to make enough sophisticated modifications to the sounds by basically combining sound effects to give the function of a synthesizer and keep the versatility of a guitar sound. We were about 95 percent there, but we would never release a product that was 95 percent. Although a few people saw the product, which was called the Mu-Tron VII and looked like a Bi-Phase with more knobs, we never went into production because at that point we still hadn't perfected it."
The Volume Wah attracted the attention of the ARP synthesizer company, which ultimately led to the sale of Musitronics. "Our downfall was the Gizmotron," says Aaron Newman. "In 1978, one of our sales reps, Al Marinaro, brought us to a guy who knew Kevin Godley and Lol Creme from 10cc, who had invented the Gizmotron. By this time we had some outside capital, and other people had some say in what we were doing. They felt that we were not strong enough to keep developing Musitronics. Everybody thought we were going to make a fortune from the Gizmotron so we decided to sell off Musitronics. ARP bought the assets of Musitronics and the rights to the name in late 1978 or early 1979. They manufactured the products and we received royalties for each Musitronics product they sold. That worked fine, except ARP's equivalent of the Gizmotron was the Avatar guitar synthesizer, so they went bankrupt right after they bought us out."
ARP developed one Musitronics product, a rack-mounted digital delay, after the transfer of ownership. Production of Musitronics products shifted from Rosemont, New Jersey, to Lexington, Massachusetts. Surprisingly, there were no significant changes in the products' quality. ARP remained in business slightly more than a year after the transfer, so there wasn't much time to make changes to the products' designs.
The former Musitronics company, now called Gizmo Inc., sunk all of its efforts into the producing the Gizmotron for guitar and bass. Unfortunately, the Gizmotron proved to be a formidable challenge for the talented engineers who created the Bi-Phase and the Mu-Tron III. "The Gizmotron was so neat," says Beigel. "We thought that we could make it, but it turned out to be an R&D nightmare that basically ate up the company. It was too difficult to make a good Gizmotron."
"The problem with the Gizmotron was that you could make one if you diddled with it long enough, but you couldn't make them in production," adds Newman. "It had these teeth that plucked the strings, but that created problems with subharmonics. The thing had a pitch of it own. We eventually hired Bob Moog, who we were very friendly with, in 1979 when his contract with Norlin ran out. He tried to figure out how to get the Gizmotron to work. We'd build them and ship them, then decide there was a problem and recall them and ship them again. We had tons of orders. If the product would have really worked, we could have made a fortune."
Despite the problems, the Gizmotron was used by a number of notable players, including Todd Rundgren and Jimmy Page, who played one of the intro to "In the Evening."
Besides the production problems with the Gizmotron, several fateful events sent Gizmo Inc. into a tailspin. In February 1980, Aaron Newman suffered a massive heart attack and was unable to work for the company. About six weeks later, the number two person at the company was killed in a plane crash.
"At that point everything was scattered," says Newman. "Godley and Creme wanted more royalties and everything fell apart. Nothing came of Musitronics because ARP went bankrupt and none of us were left to pick up the pieces after ARP folded. I was out of commission and no one else seemed to be interested enough to put it back together."
After Gizmo Inc. shut down, Beigel collaborated with another Musitronics engineer on the Beigel Soundlab Envelope Controlled Filter, which he calls "a Mu-Tron II that died and went to heaven." He made only about 50 of these rack-mountable devices, selling most of them to studio musicians.
A reissue of the Mu-Tron III was introduced a few years ago, but Beigel says that this is an unauthorized product that wasn't approved by any of the original Musitronics employees. Beigel has recently been working with Electro-Harmonix on a product that he says was originally meant to be the Mu-Tron IV, the successor to the Mu-Tron III. Called the Deluxe Dr. Q, this product was introduced last July at the Summer NAMM show in Nashville.
"There were a few other Mu-Tron products that I designed that may finally see the light of day," Beigel promises. That's exceptionally welcome news for fans of high-quality, innovative pedal effects.